This article is about why email marketing is important for online stores, and how to start doing it.
When you're selling in a physical store, you're able to keep a relationship with your clients. You might remember their names, ask them about their day, and cheer them up.
This is also incredibly effective online! However, you can't just walk up to your client and start talking!
One of the ways online shops can keep their customers engaged is through the use of email marketing.
With email, you can talk to your clients, let them know about your new products, or about how your shop is doing. You can thank your customers for making a purchase or for often coming back!
With this article, I'd like to help you start sending emails to your customers.
What you need to start email marketing for your online store
First of all, realize that you can't just write a personal email for each of your customers.
A good start is to just send a single email to your entire client base.
Here's what you'll need in order to do that:
A list of customers' emails
An email provider that will allow you to send email in bulk
Where to get the mailing list
I'm going to assume you're running a Shopify store because that's what makes the most sense in 2021.
Shopify will have kept emails for every single customer you've had. You can fetch those emails from the Shopify dashboard. That's a good place to start.
If you don't have one yet, I also suggest you set up a "sign up to our newsletter" box on your store, so you can reach potential customers too. I might write an article about how to do that in the future.
Bulk email providers for email marketing
For Shopify, you can use the mailing feature to send emails directly from your store's dashboard. You'll have a few thousand emails per month included in your base subscription, and you can upgrade if you need more than that.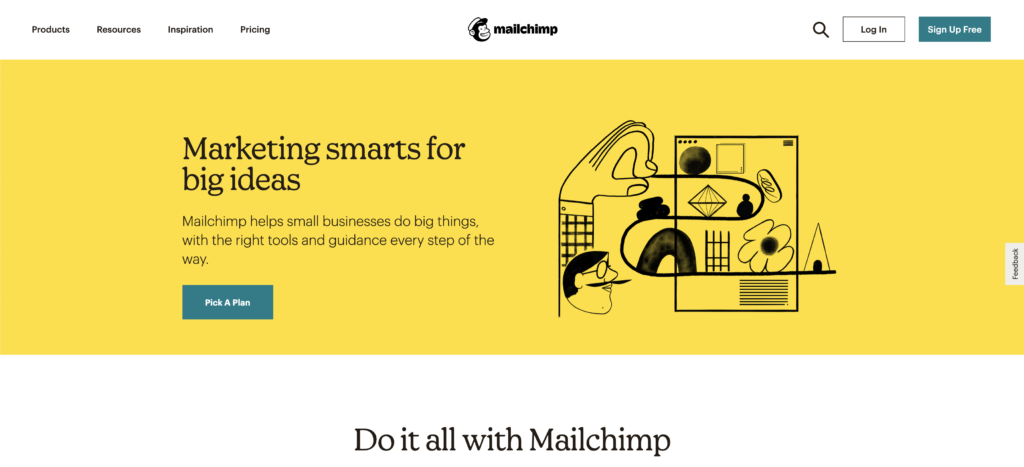 An alternative to using Shopify Email, is Mailchimp.
If your store or service is complex, you have some developers at your disposal, and would like to level up your email automation game, you should check out Sendgrid.
Sending your first email
Start by sending your first email, so you can get the feel for the process. You could for example send a holiday wishes email if it's a holiday season, or you could just send a general "thank you for choosing us" email.
Segmenting your mailing list
Chances are there are some things you should say to some of your customers, and other things you should say to a different portion of your customers.
You could for example keep tabs on wether each of your customers is male or female, and send personalised communications to each group. Or you could segment your mailing lists by age, or by interests, or geographical location, and so on.
The more you can personalize your communication, the more your customer is going to feel connected to you and your brand, and the higher the chances they are going to convert!
Conclusion
A lot of things can be done with email, but the most rewarding is getting started! So even though it might seem overwhelming, start by sending your first email, and you'll work your way up from there!
I will talk about other ways to keep in touch with your customers for online stores in the future. Sign up for my newsletter to be kept updated!
If you'd like some help setting up your own store's email marketing strategy, write me at [email protected].